ICEM – leading innovation in weather, climate and energy
As we approach our 6th International Conference Energy & Meteorology (ICEM), its convener Alberto Troccoli reflects on how a small 'leap of faith' has grown into a global platform for energy and meteorology experts and why facilitating the energy transition has gained momentum in recent years.
ICEM – bridging the gap between research and application
I've written previously about my desire to bridge the 'gap' between scientific research and practical application, by translating the work we do in weather and climate into tangible benefits for the energy sector.
For those of us working in the energy and meteorology fields, it has become increasingly clear over the years that weather and climate information can be critical to decision-making across a wide range of energy industry activities, from understanding demand, to managing supply and distribution. For instance, understanding weather-affected energy production at continental scale is a key factor in ensuring delivery of adequate and reliable power.
Establishing a global platform for energy and meteorology expertise
In 2011, we undertook to launch the first International Conference Energy & Meteorology. The intention was to provide a unique platform where meteorologists and energy industry specialists could share the substantial expertise and knowledge that exists across both sectors. The conference format offered an exciting, convivial and productive environment in which to explore opportunities for collaboration.
We were also keen to promote ICEM's core values of targeted and positive transformation (of the energy system) in the face of climate change and inclusivity – for example, through its broad organising committee, or the awards given to young specialists for best presentation.
Our inaugural conference in Australia's Gold Coast attracted over 170 energy and meteorology specialists from 50 countries. The success of this first ICEM proved the need for a collaborative, knowledge-sharing platform that spans both sectors. It also set in place a blueprint for future ICEMs in France (2013), the United States (2015), Italy (2017), China (2018) and this year's conference in Denmark.
With the support of my fellow WEMC collaborators, Laurent Dubus (EDF, France) and Sue Ellen Haupt (NCAR, USA), and many more colleagues and peers from the science and energy communities (too many to name!), we have seen ICEM grow and develop. Today, it is an established global platform bringing together world-leading research organisations, meteorological service providers, energy companies and energy policy experts for active discussion, sharing expertise, innovation and action on climate and energy issues.
Why climate and weather information is important to the energy industry
Now, as we approach our sixth ICEM, it has never been a more important time to make the most of this opportunity to explore the key issues investigated by scientists to target the needs of the energy industry.
Interest in climate change and its effects on our planet has grown and gathered pace over recent years. Research from the IPCC Special Report and the IPBES Global Assessment Report shows the impact not only on climate, but the wider environment – natural resources, habitats, plant species and wildlife. The call to find more sustainable solutions to how we manage all aspects of life has grown in strength and urgency.
The energy sector plays a fundamental part in this change, as the need to significantly reduce global CO2 emissions and limit global warming focuses attention on the energy transition – from fossil fuels to renewable energy sources and cleaner, more sustainable energy systems.
As scientists and energy sector experts, we are in a unique position to help lead this transition using the combined expertise available within the science and energy communities. The two communities now meet regularly at ICEMs and the world-leading interactions that take place greatly help focus minds on what is really critical in the move towards more sustainable and renewable energy systems.
Eight years on, six ICEMs so far and an exciting future ahead!
I am proud of what we have achieved together through this platform over the past eight years. However, as weather-dependent energy systems continue to grow at a dramatic pace, these conversations will become ever more crucial. Denmark knows well how it feels to be at the mercy of weather variations for energy production, being a front runner in energy transformation. That's why it is exciting for ICEM 2019 to be hosted by this energy visionary and inspiring country.
ICEM 2019 in Copenhagen promises to be our biggest conference yet. I hope you will join us as we look to further expand the boundaries and explore how we can use the latest weather and climate technology to tackle the energy transition head on!
Alberto Troccoli, ICEM Convener and Managing Director of WEMC
A history of ICEM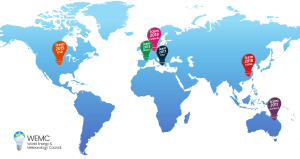 ICEM 2011 – Gold Coast, Queensland, Australia
Our inaugural conference introduced and highlighted the connection between meteorology and energy, with the aim of advancing understanding of how weather and climate events impact global energy systems. ICEM 2011 attracted over 170 delegates from 50 countries representing power generators, insurance, engineering, science and government sectors and was supported by the climate and atmospheric research arm of Australia's national science agency, the Commonwealth Scientific and Industrial Research Organisation (CSIRO), the World Bank–administered Energy Sector Management Assistance Program (ESMAP), and the Australian Government Agency for International Development (AusAID). Keynote speakers included CSIRO Energy Transformed Flagship director, Dr. Alex Wonhas, and Dr. John Zillman, a former president of the World Meteorological Organization.
ICEM 2013 – Toulouse, France
With a core theme of 'Improving Weather and Climate Capabilities for Enhanced Energy Strategies', ICEM 2013 focused on opportunities for creating stronger collaboration between the energy industry and the meteorology community; sharing research findings for operational activities, long-term investment planning and policy making; ways to manage weather and climate risk; and developing an international network for the exchange of information. Plenary speakers included Dr. Claude Nahon, EDF Group's Executive Vice President for Sustainable Development; Stuart Brown, Head of Origination, Weather & Energy EMEA Asia-Pacific at Swiss Re, and Dr. Leena Srivastava, Vice Chancellor of The Energy and Resources Institute (TERI), India.
ICEM 2015 – Boulder, Colorado, United States
In recognition of the rapidly developing knowledge and innovation within the climate-energy sector, our third international conference looked at 'Next Generation Opportunities in Weather, Climate and the Energy Industry'. Plenary speakers included Dr. Amory B. Lovins, Rocky Mountain Institute and David Grimes, Assistant Deputy Minister and Head of Environment at the Meteorological Service of Canada.  ICEM 2015 also saw the official launch of the World Energy & Meteorology Council, our new international network set up to promote and enhance interaction between the energy industry and the weather, climate and broader environmental sciences community.
ICEM 2017 – Bari, Italy
From Boulder to Bari and our fourth global conference, built around the theme of 'Challenges in Weather, Climate & Water Services for Energy'. Sessions covered topics such as forecasting and modelling for wind, solar and hydro power, adapting for climate change, data mining and exchange and projections for energy operation and planning. Keynote speakers included Dr. Florence Rabier, Director General of the European Centre for Medium-Range Weather Forecasts (ECMWF); Christine Lins, Executive Secretary of REN21 and Giles Dickson, CEO of WindEurope.
ICEM 2018 – Shanghai, China
In 2018, we made our first visit to China with the fifth International Conference Energy & Meteorology. ICEM 2018 focused on 'Renewable Energy and the Environment' and featured a global panel of plenary speakers from China, Africa, Europe and the United States, including Dr. Endi Zhai, Corporate Chief Engineer of Goldwind; Mahama Kappiah, Executive Director, ECOWAS Centre for Renewable Energy and Energy Efficiency, and Dr. Qingchen Chao, Deputy Director-General of the National Climate Centre, China Meteorological Administration. The conference programme included more than 70 presentations on topics ranging from forecasting, energy resource assessment and environmental impacts of energy, to big data, grid integration and smart grids.
ICEM 2019 – Copenhagen, Denmark
The sixth International Conference Energy & Meteorology will take place at the Technical University of Denmark (DTU) in Copenhagen from 24-27 June. The  theme of this year's conference is 'Exploiting the latest weather and climate technology to tackle the energy transition' and it promises to be our biggest event yet, with a stellar panel of keynote speakers including:
Chad Frischmann, Vice President and Research Director, Project Drawdown
Henrik Stiesdal, wind power pioneer and former Chief Technical Officer of Siemens Wind Power
Yana Popkostova, Founding Director of the European Centre for Energy & Geopolitical Analysis
Henrik Madsen, Section Head and Professor in Stochastic Dynamical Systems at DTU.
Line Storelvmo-Holmberg, Vice President, Plant & Hybrid Modelling & Analytics at Vestas
Gary Geernaert, Director, Climate and Environmental Sciences Division, US Department of Energy
Alban Joyeau, Senior Adviser, Adequacy and Security of Supply for energy transition in Europe, ENTSO-E
Anders O. Bjarklev, President, Technical University of Denmark (DTU).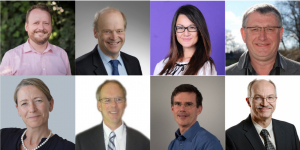 Over the course of three days, ICEM attendees will hear from highly-respected leaders in the energy and climate industries, take part in expert-led workshops and side events, and explore the key issues at the nexus of climate and energy. New for 2019 is 'WattMeet' – a micro-presentation and networking session, focusing on the 'human stories' and innovations from the climate and energy sectors.
Read the full story behind ICEM and how the value of meteorological  information to the energy industry has grown over recent years, in Alberto Troccoli's personal blog.