Tech Blog – Bridging the Weather Divide: DARAJA Project Empowers Tanzanian Communities with the Teal Tool
In a ground-breaking move to enhance climate resilience and empower vulnerable communities in Tanzania, the Developing Risk Awareness Through Joint Action (DARAJA) project was unveiled. This ambitious initiative, led by the Centre for Community Initiatives (CCI), made its debut before esteemed government institutions in Tanzania, including the Vice President's Office (Division of Environment and Climate Change) and the Prime Minister's Office (Division of Disaster Management). Meshack Mliwa, representing the World Energy and Meteorology Council (WEMC), demonstrated how the innovative Teal tool, developed by WEMC under EU projects like Copernicus Climate Change Service, H2020 SECLI-FIRM and FOCUS-Africa, could revolutionize access to weather information and forecasts
Projecting a Climate-Resilient Future
Project Overview
The heart of the DARAJA project beats with the primary objective of bolstering the capacity of Vingunguti residents in Dar es Salaam, particularly those dwelling in informal settlements. Their aim is to equip these communities with the knowledge and tools needed to take mitigating or adaptive measures in the face of severe weather conditions. By doing so, the project seeks to diminish the adverse impact of extreme weather events on both lives and property.
From Data to Impact Metrics
Central to the DARAJA project's mission is the development of robust impact metrics and a cost-benefit model. These tools are being designed to measure and quantify the effectiveness of the project in averting property damage and preventing loss of life. The commitment to comprehensive measurement underscores the project's dedication to tangible results.
Scaling Success: A National Endeavor
A pivotal point of discussion during the introduction of the DARAJA project was its potential for scalability. The project's founders and government institutions are enthusiastic about expanding its reach to other parts of Tanzania. Furthermore, they are exploring avenues to integrate the project's success into national frameworks such as the National Strategic Plan and the National Adaptation Plan. This forward-thinking approach demonstrates the commitment of Tanzania's leadership to safeguarding its citizens against the impacts of climate change.
Teal Tool: A Gateway to Weather Information
Meshack Mliwa's demonstration of the Teal tool showcased its potential to revolutionize access to weather information. The Teal tool received an enthusiastic reception during the meeting. Its simplicity and user-friendliness make it accessible not only to weather professionals but also to ordinary citizens. This accessibility is crucial, as weather information is a vital resource for informed decision-making and preparedness in the face of changing weather patterns.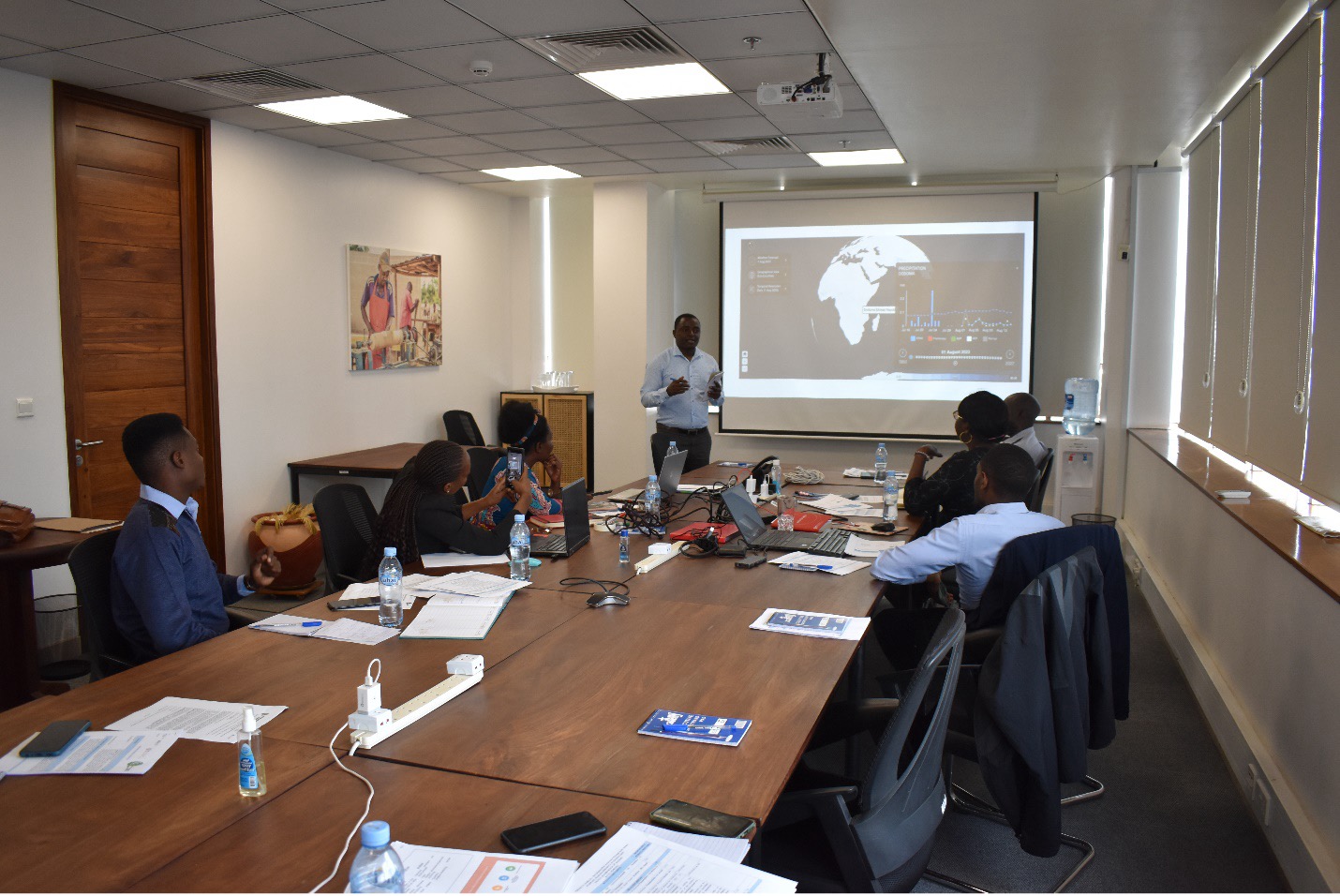 Figure 1. Meshack Mliwa of WEMC showing how the teal tool can ease access to weather information/forecast during the introduction of the Developing Risk Awareness Through Joint Action (DARAJA) project which is under the Centre for Community Initiatives (CCI) to top-level government institutions in Tanzania (Vice President's Office, Division of Environment and Climate Change; and Prime Minister's Office, Division of Disaster Management).
Government Commitment to Climate Resilience
In addition to the DARAJA project, government organizations in Tanzania are taking proactive measures to combat climate change and enhance climate resilience. Their comprehensive plan includes:
Building Capacity: Educational assistance will be extended to schools and the meteorological office. This will empower students, professionals, and citizens to adapt to climate change impacts effectively.
Accessibility and Utilization: The government is committed to ensuring that available climate change opportunities are accessible and effectively utilized.
Climate Change Mitigation: Encouraging participation in climate change mitigation activities that lead to sustainable development is a priority.
Public Awareness: Increasing public awareness about climate change and its effects is considered crucial for driving positive change.
Information Management: There will be a focus on strengthening information management related to climate change to make informed decisions.
Institutional Arrangements: Efforts are underway to enhance institutional arrangements to adequately address climate change at various levels.
Mobilization of Resources: Special attention will be given to mobilizing resources, particularly finance, to address climate change effectively.
A Pioneering Teal Tool
One of the standout aspects of the DARAJA project is the Teal tool. Currently, there is no comparable tool in Tanzania designed for easy access to climate information. Its introduction is a milestone in Tanzania's journey toward climate resilience. Its simplicity and effectiveness have garnered praise from all quarters, making it a vital asset in the fight against climate change in the region.
Regular Progress Meetings
To ensure continuous improvement in tools and services for accessing climate information, regular meetings will be held twice every year. These gatherings will serve as platforms to share progress updates with stakeholders, fostering collaboration and innovation in the field of climate resilience.
In summary, the DARAJA project represents a pivotal moment in Tanzania's journey towards climate resilience. By empowering communities in vulnerable areas with the tools and knowledge to navigate severe weather conditions, the project is laying the foundation for a more secure future. Its potential for scalability and integration into national plans underscores the commitment of Tanzania's government to address the challenges of climate change head-on. The Teal tool, with its promise of simplified access to weather information, is a shining example of how innovation can bridge the gap between climate data and community empowerment.