WEMC is busy developing Teal Bot, a first of its kind climate data assistant
WEMC have been working hard behind the scenes over the last few months developing a brand-new feature for Teal… Introducing Teal Bot!

We noticed a real gap in climate data tools for bots and assistants, an online feature that can be found across many different services and industries these days and go a long way in aiding and improving your experience, especially when they are not a replacement for real human interaction.
Teal Bot will enable users to ask direct, personalised questions to guide them through the tool and interpret complex climate data with more ease than ever before. Climate variables such as temperature and precipitation are available to explore globally, for both historical and projection forecasts and data.  Users can compare variables such as temperature and precipitation for a specific country or compare two countries against one another.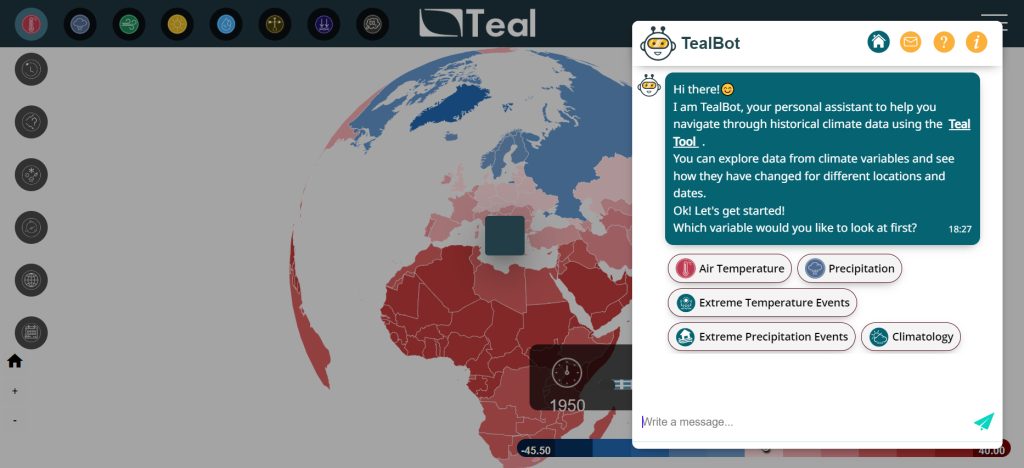 With Teal and Teal Bot, you don't need to work in the scientific field to understand and access historical, projection and observation climate data. In a few clicks, online visitors can easily visualise, interpret and download data in various image, raw and graph formats that can be used to inform decisions and support research and education like never before.
Teal Bot will be launched very soon, so watch this space!
In the meantime, check out Teal for yourself, and follow our social media accounts to keep updated and learn how Teal can benefit your understanding and awareness of climate change and to get the latest updates.
Share your Teal discoveries with us via Instagram, Twitter and LinkedIn. We are keen to hear how you use Teal as a resource within your specific sector.
WEMC recently launched the first of a new series of video tutorials on using Teal to analyse and download historical and projection data. The first covers temperature as a climate variable and helps to improve confidence dealing with climate data and climate variables, and how you can use this information to learn and make decisions around climate change. Watch for yourself here and read the full blog post here!
For further reading about Teal and climate data, check out these past blog posts:
To keep up to date with WEMCs events and news, you can subscribe to our bi-annual newsletter here.