Energy Focus: The 2022 edition of WMO's State of Climate Services Report is Launched
Last week the 2022 WMO State of Climate Services report was launched with loads of great coverage across social media and among the climate and energy community more broadly.
With a focus on energy for this edition, Alberto Troccoli, Director at WEMC contributed his expertise alongside other influential partners such as Copernicus, World Bank, ECMWF, IRENA, and many more. This week we are recapping on the findings of the report to keep the conversation going and maintain the impetus following on from the launch.
With energy a key component of both the 2030 Agenda for Sustainable Development (SDG7 in particular) and the Paris Agreement on climate change, renewable sources and energy efficiency are and will continue to be vital areas of focus for climate change mitigation and adaptation.
Seventeen global case studies are presented throughout the report, illustrating great examples of climate services that are already in action for greater energy security, and the key findings outline further steps to be taken across different areas from investment to policy: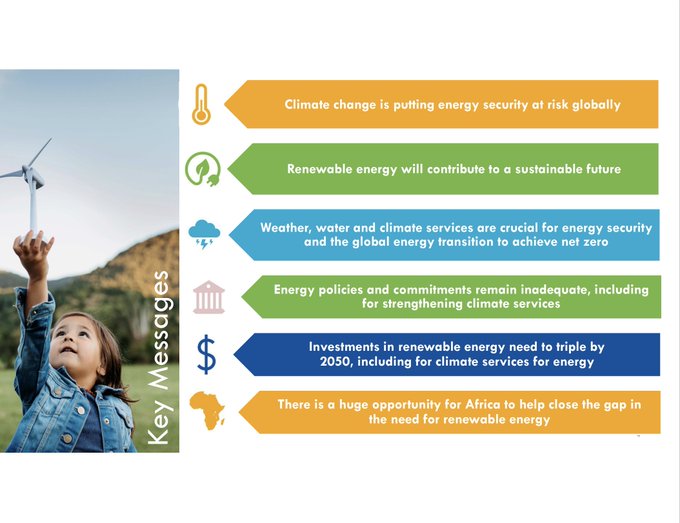 Amid the outcomes of the report are identified gaps and recommendations which outline areas for immediate and future focus in relation to the under-exposure and vulnerability of the energy sector. Renewable energy systems are by nature climate (change) sensitive as they rely on water availability for example in the case of nuclear, thermal and hydroelectric electricity generation. Climate change is increasing the frequency of droughts and flooding at a time when supply from these renewable sources needs to double in order to reach urgent international targets. Developing and emerging economies often have high capacities for renewable energy production, such as many African countries, yet they are receiving just a fraction of international financing in this area, a gap that presents huge opportunity.
"Time is not on our side and our climate is changing before our eyes. Sustainable energy security and reaching net zero by 2050 will mean a complete transformation of the global energy system – and weather, water and climate services will play a crucial role."
– Prof. Petteri Taalas, Secretary-General, WMO
You can read the 2022 WMO State of Climate Services report and previous reports in full here and watch the press conference here.
To keep up to date with WEMCs events and news, you can subscribe to our bi-annual newsletter here.