Update of the C3S Edu Demo GIS tool includes mobile compatibility
On Tuesday 5th May, the Copernicus Climate Change Service Climate & Energy Education Demonstrator (C3S Edu Demo) underwent a significant update and is now compatible with mobile devices. v1.5 of the C3S Edu Demo can be accessed via all mobile browsers but has been optimised for Chrome and Safari iOS.
What is the C3S Edu Demo?
The C3S Edu Demo is an interactive tool to help address climate change through education. Together with the school curriculum, it gives students a chance to explore how the European climate has changed and is projected to in the future. The C3S Edu Demo allows non-technical users to explore scientific climate and energy data in a visual way across an interactive map of Europe. It uses robust historical data ranging from 1979 up to 2016 (soon to be updated and extended) and offers projected data up to 2100 for comparison.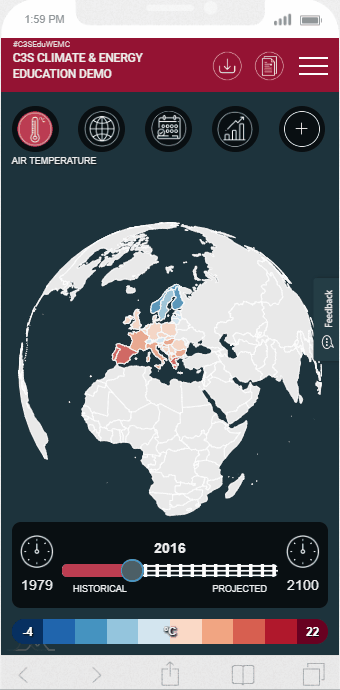 A mobile-compatible interactive tool
The C3S Edu Demo, developed in consultation with high school teachers, students and experts from the climate and energy sectors, has been well very well received by users with 81% of reporting they 'like' or 'love' the tool via the feedback tab on the tool and 92% of teachers who attended a webinar at a recent online teaching conference. The aim of the C3S Edu Demo is to make robust scientific climate and energy data accessible to a wider audience, and so a mobile-compatible version will ensure even more people can benefit.
"As mobile technology has developed substantially, there are many schools who have 'bring your own device' policies and are moving away from the classic 'computer lab' structure of providing information and communication technologies for their students" says WEMC's Education & Program Officer and ex-high school teacher Kit Rackley. "Also, families from poorer backgrounds are likely to have a smartphone rather than a laptop or computer as their 'one device' to access the internet and communicate with others."
Usage data from the C3S Edu Demo from when it went live in November 2019 to the end of April before the update to make it mobile-compatible show that almost 10% of visits to the tool have been attempted from mobile devices, with a significant number of those either being school students and from visitors based in lower and middle-income countries. These visits only had an average engagement time of around 45 seconds, compared to over 5 minutes from those using a desktop or tablet. These statistics indicate the interest in the C3S Edu Demo from those with a mobile-compatible version.
The shift towards homeschooling and remote learning due to the COIVD-19 pandemic has meant a large increase in the numbers using online educational tools. Being an online free-to-use interactive tool that can be used on a range of devices, the C3S Edu Demo is able to support this learning.
How is the mobile-compatible version of the C3S Edu Demo different?
In addition to optimising the display and interface to fit smaller screen sizes, the mobile-compatible version includes title text to identify which dataset is being viewed and the ability to rotate the globe to make navigation easier. The mobile-compatible graph displays are as fully functional as their desktop counterparts, and users can switch countries using a drop-down menu avoiding the need to close the graph.
As we continue to improve and add new functionality to the C3S Edu Demo, we welcome comments via the 'Feedback' tab, found on the right-hand side of the tool's screen. Access the C3S Edu Demo via https://c3s-edu.wemcouncil.org and visit the project's webpage to find a range of support material, including educational resources produced by teachers.