The Climate Pocketbook: An example of educational outreach from experts
Published: 26 August 2019
Sebastian Sterl (VUB) & Kit Rackley (WEMC/Geogramblings)

What's wrong with the weather? Why are scientists collectively sounding the alarm? Can individuals make a difference to avoid climate change? How can they convince others that it is time to join forces?

This book concisely describes what's going on, why we must act now and how we can act. It provides essential information and relevant discussions for anyone who wants to learn more about climate change. Included are materials to aid and direct discussion, and serves as an introduction to the climate issue for all.

– Het Kleine Klimaatboek (The Climate Pocketbook), Gustaaf Cornelis (Eds.)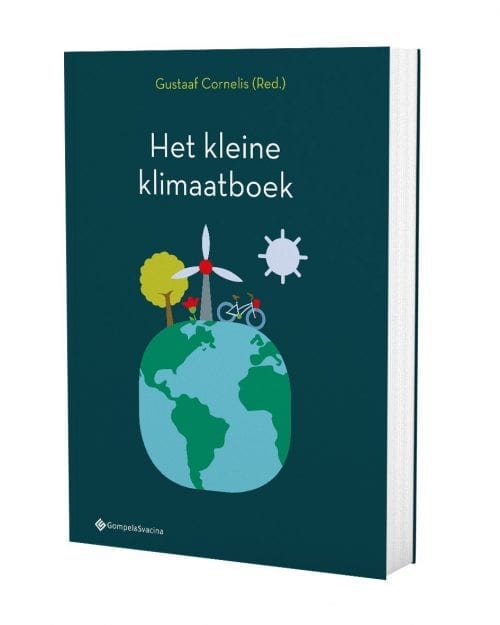 "Belgium was one of the first countries where school strikes for climate really caught on" says Sebastian Sterl, researcher on energy & climate at the Free University of Brussels (VUB) and WEMC member. "In response, our university organized a Climate Marathon earlier this year – twelve hours of live-streamed lectures and Q&A on the climate crisis." Several schools had their pupils attend university for a day and many others watched the lectures on live-stream.
"What we've done here is put these lectures on paper, to be used in high school curricula. Young people are absolutely right taking to the streets, and this booklet explains why," concludes Sterl, who drafted the book's chapter on renewable energy.
The Dutch-language book covers a range of topics: starting from the basics of climate science and global warming, it goes on to discuss the energy transition, climate-smart mobility, urban planning, sustainable lifestyles, and planetary boundaries. Separate chapters are devoted to national and international climate negotiations, and the book also provides tips on how to efficiently communicate scientific truths and reach a broad audience.
While many teaching resources exist that focus on the topics covered by Het Kleine Klimaatboek, they often exist separate and detached from one another, or at best, may form part of a bank of resources or a textbook that draws loose, tentative links. This may work well in environments with very perspective syllabuses and programmes of study, but ex high-school teacher and WEMC's Education & Program Officer Kit Rackley, believes there is appetite amongst teachers for material that comprehensively looks at the bigger picture. "You only need to look at the success and popularity amongst teachers of books such as 'Factfulness' by Hans Rosling, or 'Prisoners of Geography' by Tim Marshall to see that well-written texts which are based on sound factual information are valuable teaching resources. In my experience as a teacher, if I found a good book that looked at the bigger picture, but also allowed me to drill-down to an issue and how it's interconnected with others, I would have no problem churning out a number of activities, worksheets or ideas for my students which fulfilled the requirements of any syllabus. Examples of books that allowed teachers to do this quickly spread amongst their networks."
We have entered an era of actions, events and processes that can be attributed to climate change. It is well documented and touted that a holistic approach is needed to mitigate against the worst possible climate projections and scenarios and adapt to change that is already occurring. Books like Het Kleine Klimaatboek mirror this, providing the big-picture that is needed, but enabling teachers and educators to make effective and timely resources for their students.
The WEMC Energy & Meteorology Education SIG, lead by Kit Rackley, consists of researchers like Sebastian Sterl and other experts including meteorologists, energy engineers etc. They are joined by a number of educators at various levels, particularly high-school teachers. One of the SIG's aims is to enhance and promote high-quality education of energy and meteorology issues, by first assessing the availability of resources and their effectiveness. Resources such as Het Kleine Klimaatboek may indeed prove to be a blueprint for an effective approach, and help to inform the long-term goal of supporting the provision of future educational material. The Education SIG will take a pragmatic approach, however. "We aren't looking to change the system itself, nor to advise against a prescriptive topic-by-topic approach." states Kit. "We also recognise that there are good educational resources, linked to syllabus requirements, which make clear explicit links and do well to demonstrate the interconnectivity and interdisciplinary nature of these issues." 💡
Are you aware of a book, a resource or other educational material which looks at the 'bigger picture' with issues about energy and climate? Are you interested in the activities of the Education SIG, or perhaps would like to get involved? Contact Kit at kit.rackley@wemcouncil.org. 
'Het Kleine Klimaatboek' (The Climate Pocketbook) is edited by Gustaaf Cornelis, Philosopher of Science at the Vrije Universiteit Brussel (VUB), the book has been compiled on the basis of texts written by ten experts partly in response to VUB's Klimaatlesmarathon. With contributions from Ellen Bracquené, Aubry Cornelis, Gustaaf Cornelis, Melina Depauw, Aurelie De Smet, Cathy Macharis Bernard Mazijn, Caroline Pauwels, Willem Frederik Schiltz, Sebastian Sterl, Jill Surmont and Wim Thiery. It is currently available in Dutch via https://gompel-svacina.eu/product/het-kleine-klimaatboek/. 
Disclaimer: This post represents the views of the author and do not necessarily reflect the view of WEMC or any other agency, organization, employer or company.
---
WEMC Member Guest Blogs & Contributions: