Welcoming our first ever WEMC Organization Member: EDF R&D
The World Energy and Meteorology council are proud to welcome EDF R&D as our first organization member.
For several years we've been working closely in collaboration with the EDF Research & Development (R&D) team. We've planned and worked together on projects of common interest such as the Copernicus Climate Change Service (C3S) European Climatic Energy Mixes (ECEM) project, and the resulting online ECEM demonstrator tool. We then followed up this proof-of-concept collaboration with the C3S Energy operational service.
It's the valuable input of EDF R&D which has helped make these project outputs so robust and authoritative and has helped gain the appreciation and trust of the service users.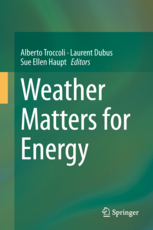 Over the years, EDF R&D have participated in several of our International Conferences of Energy & Meteorology (ICEMs). They've sponsored  of our events. And we've jointly produced papers and books on energy and meteorology as well. One of these books, Weather Matters for Energy, has been read widely by energy practitioners and weather/climate scientists alike.
It's been a long, mutually beneficial relationship based on common purposes and industries, and we're thrilled that EDF R&D have now formalised and progressed the partnership with our first Organizational Membership.
"This membership allows us to access a community of scientists in meteorology and energy. We will be able to take advantage of the exchanges of meteorological, climatic and environmental information related to the energy sector, so we can have a complementary vision of what we have in EDF R&D."
As a new Organization Member, EDF R&D will be able to easily disseminate WEMC information and community interaction to all their employees without any further registration needed. It's a valuable opportunity that we've recently introduced to allow organizations to get involved in our expert weather, climate and energy community on behalf of their employees. Our Organization Members also have the exclusive opportunity to be on the WEMC Advisory Board and help steer our future activities.
We look forward to working closely with EDF R&D on ICEM, papers, project and more for many years to come.
For further information on Organization Membership, please visit our members area.
For more information about the work EDF R&D are doing, visit their website.