About
WEMC in collaboration with Inside Climate Service srl, the University of Padova and colleagues at the University of East Anglia are launching a new series of focused training for professionals to understand how Climate Services can be used for planning, decision making, communication, business development and defining strategies to build long-term resilience to climate change. The first is to be hosted in-person at the beautiful Hotel Terme Antoniano in Montegrotto Terme, Italy, on 24th – 25th October 2022.
Overview 
The impacts to business operations, to infrastructure and to society more generally due to severe weather events and climate variability are becoming increasingly frequent and widespread.  As of 2021, natural catastrophes account for US$ 265 bn in overall losses globally, of which US$ 120 bn in insured losses[1]. This is part of an upward trend over the past few decades. Understanding Weather and Climate information is therefore becoming a necessity for all sectors, also driven by new regulatory reporting requirements.
As the changing climate is here to stay, there is an urgent need to develop adaptation and mitigation strategies to build resilience and ensure that society is well prepared to manage the risks and adapt to the impacts of Climate Change, thus minimising the loss of lives, livelihoods, crops and infrastructure. Additionally, Climate disclosures are becoming a must for almost any new venture, where organisations need to disclose to potential investors the risks and opportunities presented by Climate Change, as advocated by the Task Force on Climate-Related Financial Disclosures. Organisations can also use this requirement for their own benefit, as physical climate Risk Assessment can provide essential information for Capital Allocation, Strategic Planning and Weatherproofing of assets and processes. A solid Risk Assessment needs high-quality information on past climate, climate variability and climate projections, climate-related policies, and the potential use of emerging technologies.
This is why we are offering an Executive training on Building Resilience to Climate Change to provide knowledge and tools to respond to the Climate Change challenge. It is an intensive training where attendees will learn how to interpret and use climate information provided, and how to effectively use this information for climate risk assessment, the evaluation of adaptation options and the formulation of business strategies.
[1] https://www.munichre.com/en/risks/natural-disasters-losses-are-trending-upwards.html
Objectives
Objectives
The purpose of this Executive training is to provide attendees with the information required to understand how Climate Services – climate data and related information – can be used for planning, decision making, communication, business development or defining strategies to build long-term resilience to climate change.
Learning Goals
Attendees to the Executive training on Building Resilience to Climate Change will learn:
The risks posed by Climate Change, in terms of extreme weather events, climate variability and long term changes, on business and society in everyday life
The key drivers of Climate Change, how it is observed from historical records and how it is simulated by complex numerical dynamical models
How to navigate through the huge amount of climate data available, and how to recognise and harness authoritative, reliable data for business risk assessments
The economic impacts of Climate Change from an economic perspective, from the macro to the micro scale using specific case studies
How climate change data can be used for assessing business risk and for companies' financial disclosures
Key elements of Climate-resilient solutions and how they can be used in the design of business strategies also though the use of case studies
Audience and Requirements
This training is aimed at professionals, managers and high-level users of climate services (e.g. decision-makers in a government ministry, company, NGO and investors).
Participants will be those who need to understand the basics of climate change, how it impacts societal sectors, and what adaptation options are available.
Registration
Please note: Registration has now closed
Costs to participate are as follows:
Registration fee – €1500 (includes lectures, lunch, dinner and refreshment breaks and teaching material)
Accommodation – €95 per person per night, bed and breakfast at the beautiful Hotel Terme Antoniano in Montegrotto Terme, Italy
Cancellation policy: 100% refund between time of booking and up to 30 days prior to the event, 50% refund 30 – 21 days prior, 25% refund 21 – 7 days prior, 0% refund 7 – 0 days
Program
The training is structured around four modules. Each module lasts 4 hours (in presence) and include both lectures and interactive activities. All modules will include interactive activities and will be designed in a way that encourages participation, a deeper understanding, group work and networking. The modules will cover:
Module 1 – How climate change is impacting on society
Identification of key climate hazards, their impacts, risks and opportunities
The changing nature of hazards, their return periods and intensity
How societal vulnerability to climate hazards is changing
Module 2 – The science of climate change, and data and information resources
How do we generate climate data and related information
The different types of climate data, where to find them and how to interpret them
The strengths and limitations of climate data, also understanding when further analysis may be required or desirable
Module 3 – The economics of climate change impacts
Climate change and the economy: the compounded cost of climate disasters, their domino effect on economic systems and society.
Climate change and business risk
Climate disclosure for business
Module 4 – Climate change adaptation options for business and policy
Designing climate resilient business strategies: Strategic planning and climate-proofing assets and processes
Nature-based solutions
Governance and policies
Meet the Lecturers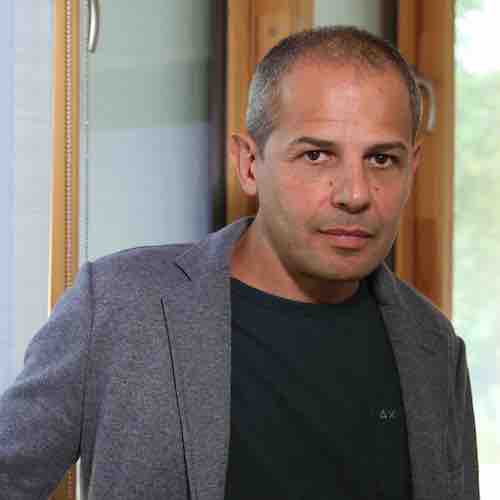 Alberto Troccoli, Founder & Managing Director, WEMC
Prof. Alberto Troccoli is the co-founder and Managing Director of WEMC. With over 25 years of experience in the fields of meteorology and climate, and their applications to society, particularly for the energy sector.
His career includes time at several leading institutions such as NASA, ECMWF (UK), the University of Reading (UK) and CSIRO (Australia). In addition, he has published extensively and is also the chief editor and an author of four books.

Nicholas Vasilakos, Associate Professor in Sustainable Business Economics & Public Policy, University of East Anglia
Nicholas is an applied economist and Associate Professor in Sustainable Business Economics & Public Policy at the University of East Anglia (UEA) in Norwich, UK.
His research interests lie at the intersection of responsible regulation, sustainable development and policy evaluation. His work has been cited by various government and inter-governmental organisations, including the US Treasury and the OECD.

Marco Borga, Professor, University of Padova Department of Land, Environment, Agriculture & Forestry
Marco teaches Hydrology, Hydraulics and Forest Hydrology, and is Associate Editor on a number of journals in the field, as well as CTO of start up Inside Climate Service.
His research interests lie in monitoring, analysis, modelling and prediction of hydrological processes over a range of scales from hillslopes to basins; Flood and flash flood hydrology; Integrated hydrological-geomorphic modelling of hillslopes; Hydrometeorology and hydrologic modelling by weather radar and satellite and analysis and prediction of natural risks.

Marco Marani, Professor, University of Padova Department of Civil, Architectural and Environmental Engineering
Also Adjunct Professor in the Division of Ocean Sciences and the Department of Civil and Environmental Engineering at Duke University (USA), his research interests span flow and transport in the hydrologic cycle, hydro-meteorology, geomorphology, remote sensing, hydrologic drivers of disease vectors.
Marco is a member of the American Geophysical Union and of the European Geosciences Union. He has published more than 100 papers in peer-reviewed journals, 5 chapters in edited books, about 120 abstracts presented in international conferences, and has edited 2 books.

Maxx Dilley, Former Climate Program Director, World Meteorological Organisation
Maxx is an internationally known expert on climate, its impacts, and services for climate risk management and adaptation. He has worked for the United Nations at the World Meteorological Organization (WMO) and United Nations Development Program, as well as for the World Bank, the US Agency for International Development, and as a Research Scientist at Columbia University.
Dr. Dilley has worked on the ground worldwide to promote the establishment or strengthening of hydro-meteorological systems and services for climate risk management and disaster risk reduction in over 80 countries. He has authored numerous scientific papers and reports.