WEMC is seeking climate enthusiasts from around the world
Since our Teal tool launch in November 2020, we have had enthusiastic engagement with users globally. Teal is a free, easy-to-use, interactive climate data visualisation tool. The World Energy & Meteorology Council (WEMC) is now calling for climate enthusiasts to help expand our Teal tool community and promote further conversations on benefitting from climate data and historical facts across a variety of sectors.
If you are passionate about climate change, then engage with us on Twitter and LinkedIn.  We are keen to hear about your experiences using Teal to raise awareness and promote dialogue on climate change.
Teal is more than just an easy-to-use data visualisation online tool. It enables you to explore climate variables for the past 70+ years, from 1950 to near real time, and carbon emissions from 1960. Explore our blogs and uncover more about the value of historical climate data when making future decisions and how Teal enables exploration of worldwide climate change.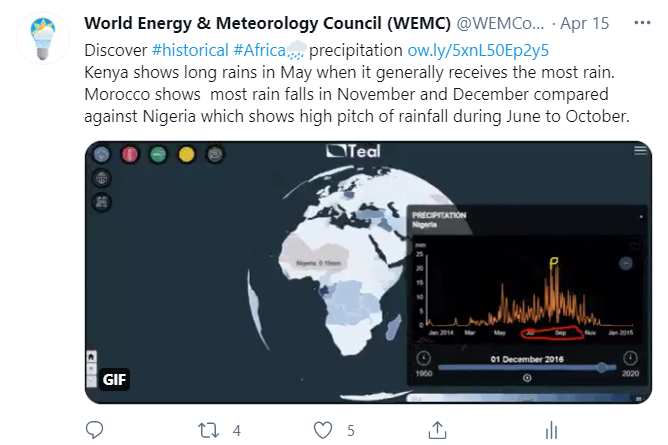 Join our global data travels as we share Teal facts (see example above) via Twitter and LinkedIn every week. Be inspired and share with us what you discover using Teal for where you live.
We also invite you to join WEMC membership. It is FREE, and a great way to stay informed on new events, scientific knowledge, resources, opportunities and potentially contribute a guest blog on how you are using Teal.
Let's work together and use Teal to start conversations and build interaction between the energy, weather, climate, education and broader community to raise awareness of our changing climate.
Explore Teal for free: tealtool.earth