A snapshot of WEMC's diverse global membership, where energy meets climate
At the World Energy and Meteorology Council (WEMC) we work to promote and enhance interaction between the energy industry and the weather, climate and broader environmental sciences community.
Building our community
Since 2015, when our organization was established, we have offered a free membership opportunity. Five years on and our wonderful WEMC community has grown significantly welcoming members from the USA, Europe, Africa, Asia, the UK and beyond – all benefiting from free WEMC membership.
WEMC members have a common aim – to work together using our shared knowledge and expertise to help create more efficient, sustainable and resilient energy systems.
Who are WEMC members?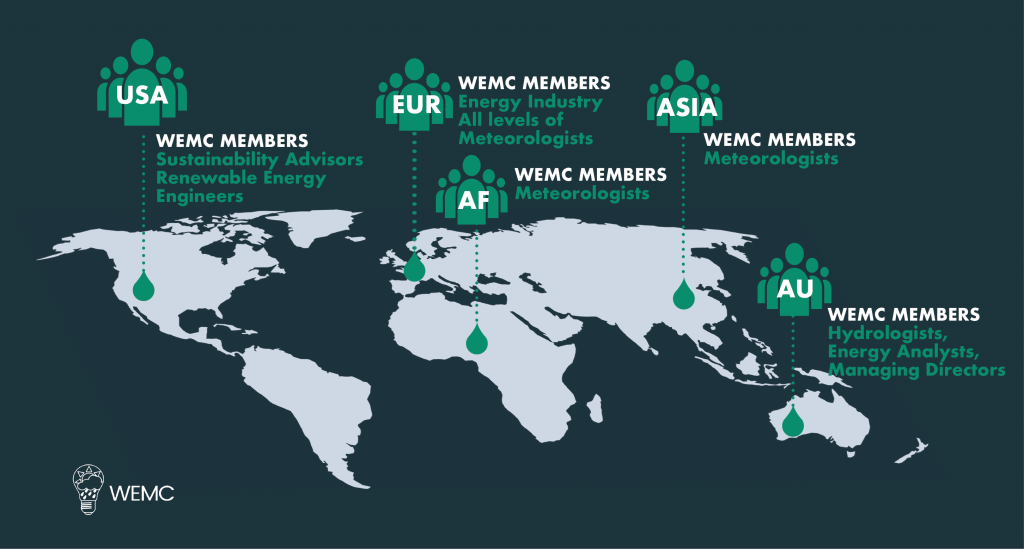 Our diverse membership directory, that can be exclusively accessed if you join WEMC, encompasses energy and water industry specialists from across Europe working in solar energy, wind, and hydro power generation or transmission as well as research.  Members from America include Senior Sustainability Advisors, Renewable Energy Engineers and Sensing and Predictive Analysts.
We recently welcomed a number of young meteorologists from Africa and they joined Wind Energy and Electrical engineers and professionals working in sustainable development roles from across the continent.
Australian members include Hydrologists, Energy Analysts and Professors with diverse membership across Asia; from Research Assistants to Directors of Research, from professionals working in Climate Service Divisions to Research and Development.
WEMC members include educators, researchers, scientists, students, entrepreneurs, company founders and directors – some starting out on their studies or in their first job and others reaching the pinnacle of their careers.
We are also privileged to have worked with policy makers from around the world within our membership community. Our ultimate goal is to help the energy sector create cleaner, more resilient energy systems through the use of proven, reliable scientific data and learning.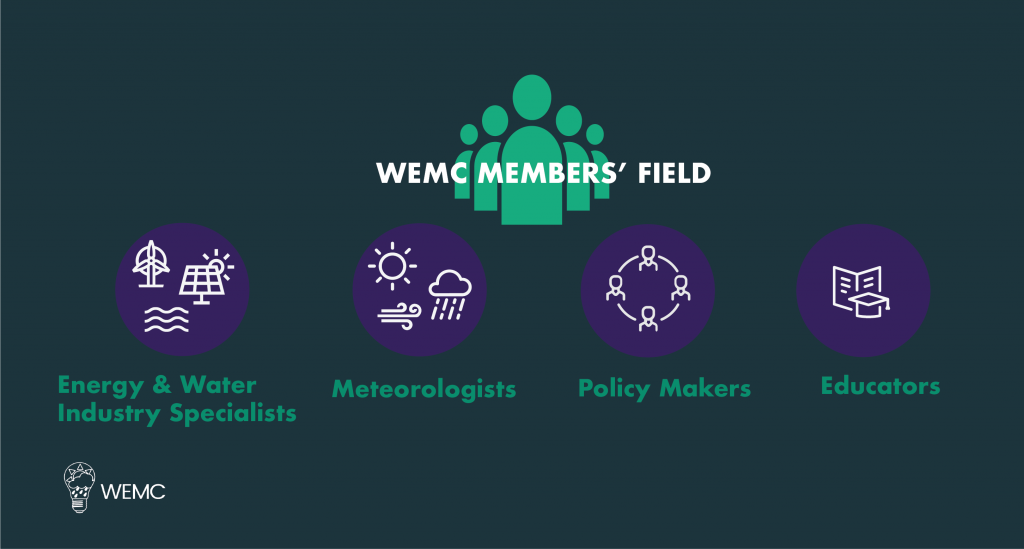 WEMC member benefits for you:
The most prized membership benefit is the exclusive opportunity to share your work and thoughts on climate and energy related issues and put forward an article to be considered for publication to our news feed and for promotion on our thriving social media platforms. Successful features, selected by the senior WEMC team, have ranged from Climate Services for a renewable future in West Africa to the impact of hydrological cycles on the worldwide energy industry.
Join today to start your path to potential publication!
Further free benefits enjoyed by our impressive membership community include the chance to explore and connect with hundreds of WEMC members, with exclusive access to our member directory and resources plus updates on the latest WEMC training, webinars and workshops and much more.
Membership is free and it takes just minutes to join WEMC and play your part in our forward-focused community. We cannot wait to welcome you…