Organisations from across Europe are analysing nine case studies to demonstrate if seasonal climate forecasts can help the energy and water sectors make more accurate practical decisions and contribute to cleaner and more cost-effective energy systems.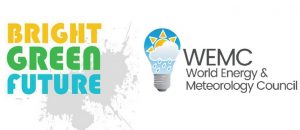 Teenagers on the Bright Green Future Environmental Leadership programme received a talk about Climate and Renewable Energy from the World Energy & Meteorology Council (WEMC) Managing Director this week. 
SECLI-FIRM invites you to be a part of a free collaboration forum.
Join  us for this training course to discuss applications of weather & climate information for the energy sector as a part of the Pre-ICEM Conference.
Mark your calendars for the 5th International Conference Energy & Meteorology (ICEM). Conference theme: Renewable Energy and the Environment". The ICEM will focus on creating effective approaches for improved weather, climate and water services for energy. An exciting line-up of Chinese and International industry speakers will lead the conference's keynote presentations, complemented by an exceptional program of parallel sessions and poster presentations!
We bring meteorological knowledge and innovation

to the energy industry
We are powered by passion and enthusiasm